The story of Utica Pizza Company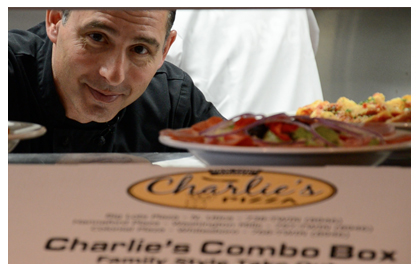 It's all about our family roots
Our family roots reach back to a small family farm outside Utica, NY. A farm that provided my parents a hard working existence - nourishing the land to produce the freshest quality of fruits and vegetables. Our childhood lessons included the benefit of hard work and personal sacrifice, so when it came to food we never cut corners and a passion for simple but really good food began.
The lessons I learned as a boy continue to hold true today
All my recipes reach back from my grandmothers to my mother, and today to you. We take personal pride and dedication to serving you quality food with only the best ingredients prepared our own way.
Utica has been known for delicious and unique Italian food since the early 1900s. Original dishes like Utica Greens, Chicken Riggies and Tomato Pie were created there inspiring thousands of outsiders to get off the New York State Thruway to get lunch, dinner or simply a slice.  Charlie Digristina was intrigued by this 'love of the food' and he decided to open his own pizzeria, more than 30 years ago. Since then, he's operated successful Italian restaurants and pizzerias in the Utica area featuring the Utica classics and family recipes handed down from his ancestors. Now, he continues to operate his Utica restaurants, a food truck operation called, "It's a Utica Thing!" and a few years ago, he finally took the step to bring those family recipes to Syracuse under the name - Utica Pizza Company.
Charlie makes sure the Utica Pizza Company staff follows his philosophy of hard work and dedication, staying true to the family recipes and using only the best quality ingredients.
We at Charlie's treat our customers like our friends and our friends like family. If you have enjoyed our food tell a friend and bring them in to join our family.
Sincerely,
The Digristina Family